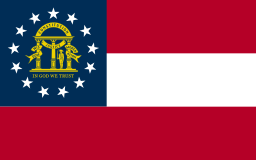 Georgia Election Dates
Promoting Democracy Through Education
www.mytimetovote.com
Recent and Upcoming Election Dates And Deadlines
This page contains dates and deadlines information on elections occurring in Georgia.
Election dates and deadlines vary by locality. Please be advised that these dates are updated regularly but are subject to scheduling changes at the local level.
Elections QuickLinks
Scheduled Elections In Georgia
2018 Election Dates & Deadlines
2018 March 20 Special Election Day -- Date: March 20,2018
Deadlines
February 20, 2018
Voter Registration Ends:Last day for a person to register and be eligible to vote in the March Special Election
February 26, 2018
Early Voting/In Person Absentee voting starts:Advanced (Absentee In-Person) Voting begins for the March Special Election.
March 16, 2018
Last day for county clerks to mail ballots to voters:Last day for a registrar to issue absentee ballots for the March Special Election
SPECIAL ELECTION RUNOFF -- Date: April 17,2018
Deadlines
2018 May 22 General Primary Election, Nonpartisan General Election, and Special Election Date -- Date: May 22,2018
Deadlines
2018 November 6 General Election -- Date: November 6,2018
Deadlines
2020 Election Dates & Deadlines
2020 November 3 General Election -- Date: November 3,2020
Deadlines
The Opening And Closing Times For Polling Places
Polls open from 7:00 AM to 7:00 PM

On Election Day, polling places in Georgia are open from 7:00 a.m. until 7:00 p.m. If you are 75 years of age or older or have a disability and you show up at the polling place between 9:30 a.m. and 4:30 p.m., you will not be required to wait in line. Such voters should tell a poll officer if he or she wants to move to the front of the line.
Am I Eligible To Vote in Georgia?
To register to vote in the State of , an individual must meet the following qualifications:
Be a United States Citizen
Be a legal Resident of the county ,
Be at least 171/2 years of age to register and 18 years of age to vote
Not be serving a sentence for conviction of a felony involving moral turpitude
Have not been found mentally incompetent by a judge
Where Do I Register To Vote in Georgia?
Don't wait, locate where you can register to vote, where to update your voter registration, or check your voter registration status and more Click here for more information
Georgia QuickLinks